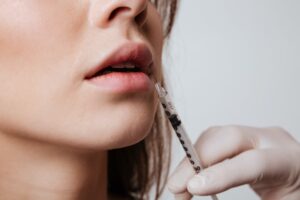 It's no secret that many of us want full, luscious lips. To help patients achieve this goal, our team at Aloha Laser Aesthetics offers the lip filler Restylane® Kysse for a natural-looking enhancement. Restylane® products, made by Galderma®, consist of a hyaluronic acid-based formula that adds subtle volume to various facial areas. We're proud to offer the full Restylane® filler family at our Honolulu practice. Each filler has been created to enhance facial features for a fresh, youthful appearance. Restylane® Kysse is specifically designed to give your lips the full, plump look you desire while simultaneously bringing out the natural beauty of your face.  
Our highly qualified injector, Alan Faulkner, MD, is experienced with using Restylane® Kysse for lip enhancement. He designs a custom treatment plan for every patient, based on their input and preferences. His commitment to producing natural-looking results has exceeded countless patients' expectations.
Restylane® Kysse
FDA-approved Restylane® Kysse often provides superior results compared to other lip fillers, thanks to the following:
It's designed to mimic the naturally-occurring hyaluronic acid in your body. This accounts for the hydrated, healthy-looking results it tends to produce.
It's versatile. Kysse can both soften and round out lips and smooth wrinkles around the mouth.  
It's top-of-the-line. Kysse is the newest Restylane® product. As such, it has been extensively tested and proven effective in most cases.
It can last up to a year. Like all fillers, results will vary based on the patient.
It can give patients a natural boost in lip color (known as the "lipstick effect").
It contains lidocaine. Like most Restylane® injectables, Restylane® Kysse contains a small amount of lidocaine, a substance used to minimize discomfort during the procedure.
Restylane® Kysse has consistently impressed our patients with its subtle-yet-profound results in lip augmentation. If you have any more questions about this popular product, you can discuss the treatment with Dr. Faulkner at your consultation. To get the natural-looking lip enhancement of your dreams, we invite you to schedule your appointment today.
Previous Post
Next Post