Are stubborn pockets of fat and/or areas of loose skin preventing you from having the smooth, lean body contours you desire? At Aloha Laser Aesthetics, we offer two state-of-the-art, non-invasive treatment options that can target and improve the appearance of excess fat and skin laxity with exceptional results: EMSCULPT NEO and TempSure Firm.
"The customer service at Aloha Laser Aesthetics is so on point. They kindly explain every aspect of the procedure, answer all questions and behave like total Pro's…"
EMSCULPT NEO is the first radiofrequency- and electromagnetic-energy-based treatment created to disrupt fat cells while also strengthening muscle. Meanwhile, TempSure Firm relies upon radiofrequency (RF) energy to warm and contract tissue for a smoother, tighter, more rejuvenated appearance. For optimal body contouring results, many of our patients who are good candidates for both treatments choose to undergo EMSCULPT NEO sessions followed by TempSure Firm to perfect their figure.
To learn more about each treatment, please explore the informative sections provided below, or contact our practice today.
How Does EMSCULPT NEO® Non-Surgical Fat Reduction Work?

When dieting and additional exercise are unable to reduce areas of stubborn fat, non-surgical, non-invasive treatments with the EMSCULPT NEO system may be the right option for achieving the smoother, more slender contours you desire. This innovative treatment is the first of its kind, and is widely considered to be groundbreaking. EMSCULPT NEO treatments are virtually painless and involve the placement of a flat applicator against the skin, which applies a steady flow of both radiofrequency (RF) waves and high intensity electromagnetic (HIFEM) energy. The RF waves warm the fat cells below to a specific temperature, effectively destroying them while leaving the surrounding tissue unharmed. At the same time, the HIFEM energy strengthens and sculpts the muscle. The typical result is a much firmer, smoother, contoured look.
We usually recommend around four treatment sessions to achieve the optimal effects of EMSCULPT NEO. After this series of treatments, the affected fat cells begin to break down, and over the course of about two weeks, they leave the body through natural processes to reveal a leaner appearance. There is little or no downtime associated with EMSCULPT NEO, and the majority of patients return to their normal activities immediately.
What Areas Can EMSCULPT NEO® Treat?
EMSCULPT NEO is approved by the FDA to treat the following areas:
Abdomen (upper and lower)
Calves
Arms
Legs
Thighs
Buttocks
Note that EMSCULPT NEO is a very new product, having launched in 2019. Additional areas are likely to be FDA-approved for treatment in years to come.
Once it is determined that you are a good candidate for EMSCULPT NEO, your personalized treatment plan can be designed based on the area(s) you want to treat and the quantity of fat present. For optimal results, you may require multiple treatment sessions, and these specifics will be discussed during your consultation.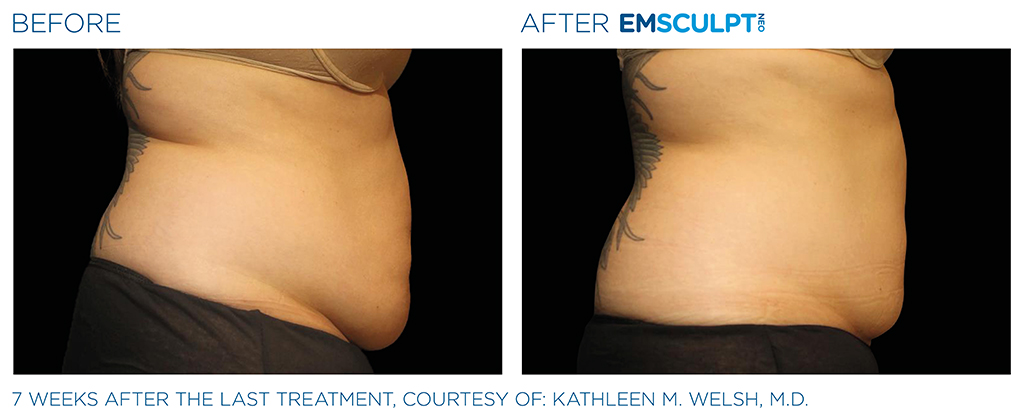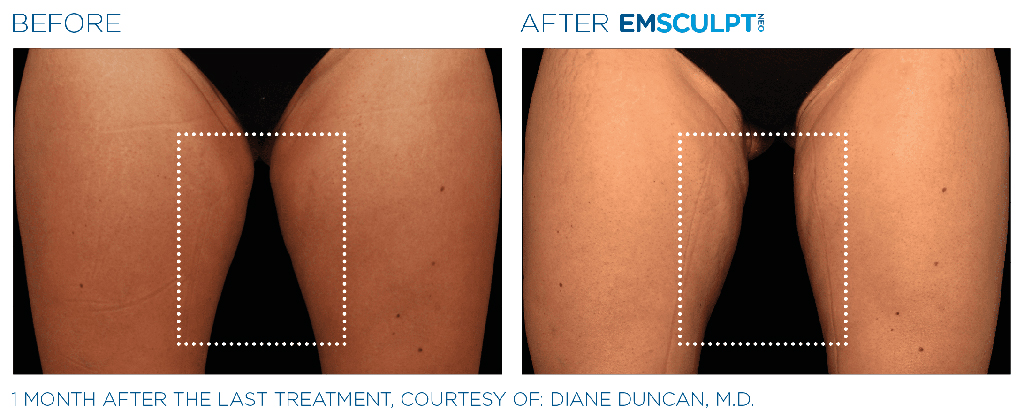 How Much Does EMSCULPT NEO® Cost?
At Aloha Laser Aesthetics, your initial EMSCULPT NEO treatment costs $1,000 per treatment and four treatments are recommended for optimal results. Depending on the extent of treatment and other specifics, we may offer discounts for additional sessions on the same area of the body. During your EMSCULPT NEO consultation, a custom-tailored treatment plan that targets your area(s) of excess fat will be formulated, and a precise cost estimate will be provided.
At certain times throughout the year, we offer special package deals that can include EMSCULPT NEO treatments, and we encourage you to check our seasonal specials periodically to take advantage of these valuable offers. Once you have received your treatment cost estimate, our office team can discuss payment methods we accept and third-party financing opportunities that are available to qualified applicants.
TempSure® Firm Non-Surgical Body Skin Tightening
When skin and superficial connective tissue begin to lose elasticity, due to aging, sun damage, weight loss, and/or other factors, it can change the appearance of your figure and make you look older than you feel. If you are interested in a non-surgical, non-invasive way to restore smoother, firmer, more youthful-looking body contours, TempSure Firm treatments performed at our practice may be a great approach for helping you reach your goals.
TempSure Firm is a new body applicator for the TempSure Envi skin tightening system. The 60mm TempSure Firm handpiece harnesses the same technology as the facial handpieces we use to tighten mild to moderate skin laxity in the face and neck area, yet offers a larger surface area to effectively apply radiofrequency energy to various parts of the body. In addition to treating sagging skin, TempSure Firm's tissue tightening capabilities can also diminish the appearance of cellulite.
TempSure Firm works by emitting RF energy through the applicator to the surface of the skin, warming the superficial and deeper layers of tissue to a specific temperature that initiates the body's natural healing response. Treatment for some areas can be completed in as little as five minutes, and there is virtually no discomfort or downtime associated with TempSure sessions. In the months following treatment, the tissue healing response creates new collagen fibers in the targeted area, which gradually tightens, smooths, and rejuvenates the region.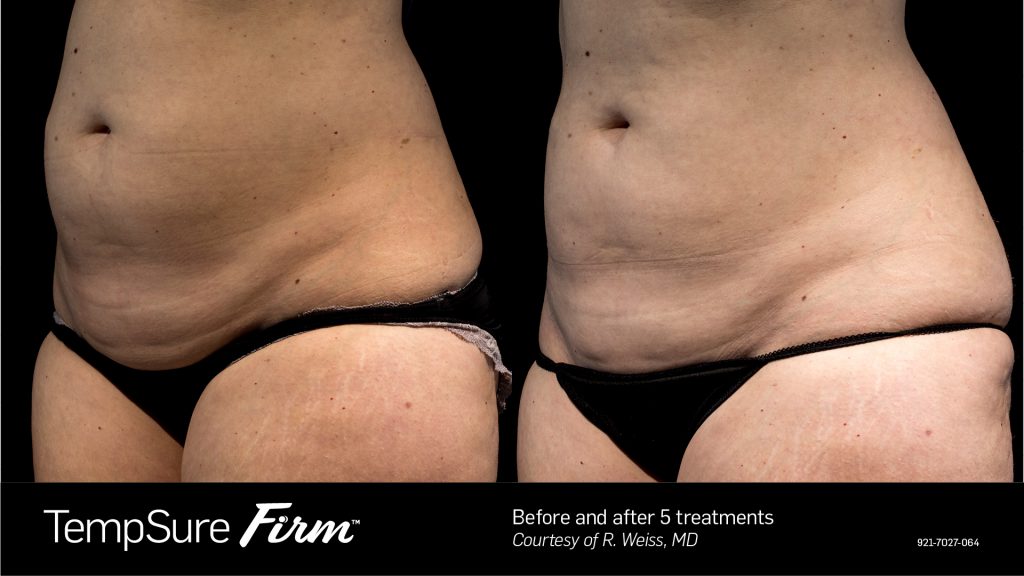 What Areas Can TempSure® Firm Treat?
TempSure Firm treatments can be used to tighten nearly any area of the body that is affected by mild to moderate skin laxity and/or the appearance of cellulite. Areas that are popular to treat with TempSure Firm include:
Tummy
Thighs
Buttocks
Arms
How Much Does TempSure® Firm Cost?
At Aloha Laser Aesthetics TempSure Firm treatments start at $500, or $1350 for a package for three sessions. The specific cost for your custom-tailored treatment plan will depend on the area(s) you are having treated, the condition of your skin, and the degree of improvement you desire. After your consultation, we will provide you with a detailed cost quotation and may offer you the opportunity to purchase multiple TempSure Firm treatments at a discounted package rate. Our office team can explain the payment methods we accept and financing opportunities through Alphaeon™ Credit, which are available to approved applicants.
Do you have questions about our non-surgical body contouring treatments? Contact Aloha Laser Aesthetics to schedule your personal consultation.