Cynosure® Vectus® laser and Elite iQ™
At Aloha Laser Aesthetics, we utilize the most advanced laser hair removal technology to provide our patients with optimal hair reduction results. The efficient and effective Cynosure® Vectus® laser and Elite iQ™ laser represent the leading edge in hair removal systems. Unlike lasers of the past, highly customized Vectus and Elite iQ treatments can achieve outstanding results for patients of all skin tones and hair types. Both systems are designed with patient safety and comfort in mind—treatments are quick and any discomfort is typically minimal. With each treatment, the number of hairs, hair thickness, and speed of growth should diminish considerably.
If you are considering laser hair removal, we encourage you to explore the informative sections provided below to learn more about our technology and treatments, or contact our practice to schedule a consultation.
How Does Laser Hair Removal Work?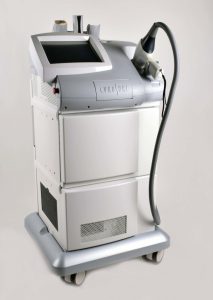 The Vectus and Elite iQ lasers apply specific wavelengths of light energy to hair follicles in order to prevent them from continuing to grow hair. Your laser technician can choose from a variety of specialized treatment tips, which allow for optimized treatment at a variety of different areas on the body and face. During your treatment session, an applicator is placed against the skin of the targeted area and the laser is pulsed. The hair follicles absorb the energy from the laser and become disrupted or coagulate, while the surrounding tissue remains unharmed. Following treatment, skin may appear temporarily flushed or irritated, but most patients find these effects to be mild and manageable.
The goal of treatment is to prevent the follicles from ever regrowing hair, though some lighter, thinner, softer, slower-growing hairs may still remain. That said, after the recommended series of laser sessions, most patients are very satisfied with their hair reduction results. In some cases, touch-up treatments may be desired at a later date to maintain the quality of the outcome.
"Nala, the esthetician, is always cheerful, personable and knowledgeable. She eased my fears and anxieties for laser hair removal, as I have low tolerance for pain, and made each experience bearable. So glad I did it that I am venturing doing my underarms now. Highly recommend her!"
What Areas Can Laser Hair Removal Treat?
The Vectus and Elite iQ lasers are incredibly versatile and designed to deliver effective treatment to nearly any area of the body and face. Popular areas to treat with laser hair removal include:
Upper lip
Chin
Face
Neck
Chest
Arms
Underarms
Back
Abdomen
Bikini area
Brazilian
Derriere
Legs
How Much Does Laser Hair Removal Cost?
The pricing of laser hair removal at Aloha Laser Aesthetics is determined by the area being treated and the number of sessions necessary to achieve an optimal reduction in hair. During a consultation, your knowledgeable laser technician will discuss your concerns and carefully evaluate your skin and hair to develop a highly customized treatment plan aimed at achieving your goals. Sessions are frequently purchased in packages to reduce the overall cost, and your technician can explain the packages that best align with your needs. To make paying for treatment convenient and affordable, we accept several payment methods—including major credit cards—and offer third-party financing through Alphaeon™ Credit.
Do you have questions about laser hair removal? Contact Aloha Laser Aesthetics to schedule an informative consultation.