Medical-grade skin care products can make significant improvements in the health and appearance of your skin, as well as enhance the outcomes of aesthetic laser treatments and other non-surgical cosmetic procedures. In an effort to provide our patients with access to the highest-quality skin care products available, Dr. Alan Faulkner has hand-selected each of the brands we carry. ALASTIN Skincare®, ROOT OF SKIN™ MD, and EltaMD® incorporate proprietary skin care technology, nutrients, and active botanicals aimed at bringing about skin that's smoother, healthier, and more youthful-looking. We also offer effective eyelash treatments that can stimulate thicker, longer lash growth.
Learn more about our skin care and eyelash treatment products by exploring the sections provided below, or by contacting our practice to schedule a consultation.
"Great experience. Clean office, friendly staff."
ALASTIN Skincare®
ALASTIN Skincare is considered one of the most innovative clinical-grade skin care lines on the market today. In addition to combating signs of aging, supporting the skin's regenerative processes, and replenishing integral tissue nutrients, ALASTIN Skincare products also play a vital role in the success of our skin rejuvenation and body sculpting procedures. The ALASTIN Skincare line includes specialized formulations designed to prepare skin for aesthetic procedures, enhance the efficacy of treatment, support post-treatment healing, and optimize results. The active ingredients and proprietary skin care technology in ALASTIN Skincare products have proved to smooth and rejuvenate the skin by facilitating the creation of new collagen and elastin fibers, as well as by clearing cellular debris. Key components include: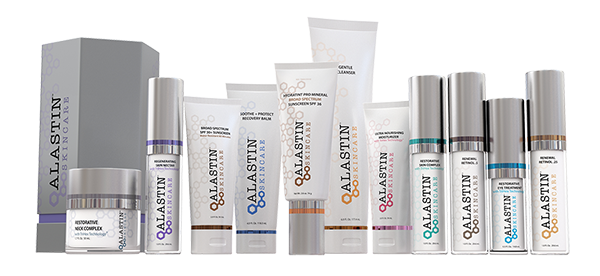 TriHex Technology®
Blend of anti-aging peptides
Antioxidants
Natural skin brighteners
Phospholipids
Nourishing vitamins
Whether you are looking for an effective regimen to maintain skin health or wish to achieve anti-aging goals—such as boosting skin hydration, reducing the appearance of wrinkles, and creating a brighter, more even skin tone—we offer the ALASTIN Skincare products that are specifically designed for your complexion needs. After a skin evaluation performed by one of our experienced aestheticians, you can receive a customized selection of ALASTIN Skincare products tailored to the skin enhancements you desire.
ROOT OF SKIN™ MD
ROOT OF SKIN MD products help keep skin healthy while supporting a youthful and vibrant appearance as the skin ages. Using proprietary SourceCode Technology™, ROOT OF SKIN MD products are able to rejuvenate the skin by combating the aging process with growth factors and providing a potent blend of revitalizing nutrients that can absorb deeply into tissue. The complex biological formulations contained in ROOT OF SKIN MD are focused on creating a more even skin tone, smoother texture, and improved skin elasticity and firmness. SourceCode Technology helps infuse the skin with amino acids, stem cell-derived growth factors, hyaluronic acids, peptides, antioxidants, vitamins, and minerals—while also creating a moisture-enhancing barrier to maintain skin hydration.
With regular use, patients find that these dynamic formulas can significantly diminish the appearance of wrinkles and other visible signs of aging:
ROOT OF SKIN™ MD Facial Serum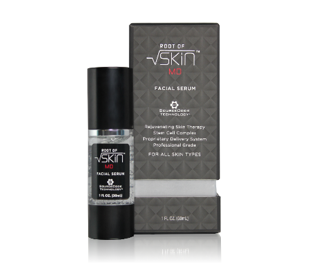 Suitable for all skin types
Deeply infuses tissue with active ingredients to improve skin health and revitalize depleted skin for a more youthful appearance
Protects against environmental damage
Enhances skin moisture
Long-acting effects
ROOT OF SKIN™ MD Eye Complex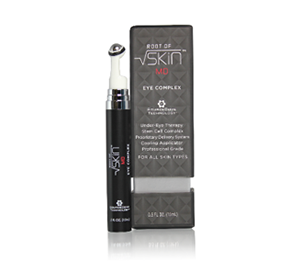 Specifically formulated for the delicate skin surrounding the eyes
Deeply infuses the skin around the eyes with active ingredients for a smoother, firmer, more youthful-looking texture and appearance
Suitable for all skin types
Long-acting effects
AlumierMD®
Clean, effective, cruelty-free, socially responsible skincare has arrived at Aloha Laser Aesthetics! AlumierMD® medical-grade skincare products are formulated in alignment with "Clean Science" standards, which prioritize optimal skin treatment results, clinically validated ingredients, and creating the cleanest formulations. For maximum skin improvement, AlumierMD® offers products specially formulated to safely combat acne, skin redness, aging, and discoloration.
The full AlumierMD® collection contains products for normal, oily, dry, combination, and sensitive skin which include:
Daily essentials
Moisturizers
Sun protection
Eye products
Cleansers
Targeted serums
Exfoliants
Post-procedure product formulas
For peace of mind and healthy, beautiful skin, the AlumierMD® team has developed a skincare line which delivers a unique profile of features and benefits. All AlumierMD® products are:
Free of sulfates, artificial fragrances, dyes, parabens, and phthalates
Cruelty-free, microbead-free, and reef safe
Clinically tested
Free from 1,300 substances banned by the FDA, EU, & Health Canada
Sustainably sourced
Formulated with optimal doses of active ingredients
Monitored through rigorous quality control measures at every stage of production
Ask our team about the AlumierMD® products that are right for your skin!
Revision® Skincare C+ Correcting Complex 30%™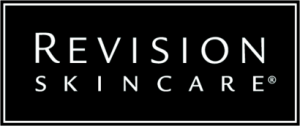 Glowing, youthful-looking skin and a more even skin tone can be the benefits of incorporating Revision Skincare's C+ Correcting Complex 30% into your skin care regimen. Formulated with next-generation Vitamin C and proprietary MelaPATH™ technology, the C+ Correcting Complex not only corrects the appearance of environmental skin damage (free radicals, sun, and pollutants), it also defends against the formation of new damage. Additionally, the C+ Correcting Complex boosts the skin's natural production of Vitamins C and E, while also delivering supportive prebiotics that facilitate the microbiome of the skin. After 12 weeks of product use, the vast majority of Revision Skincare's test group reported firmer, brighter-looking skin, as well as a more evened skin tone and an overall improvement in the skin's appearance.
Cysteamine® Intense Pigment Corrector
Areas of uneven, darkened pigmentation can be effectively lightened with the help of Cysteamine Intensive Pigment Corrector, a product specially formulated to reduce pigmentation concerns. While improvements may be noticeable within six weeks of daily use, optimal results typically take eight to twelve weeks to emerge.
HydroPeptide® Lip Perfecting Gloss

The innovative HydroPeptide Lip Perfecting Gloss formula plumps, volumizes, and deeply moisturizes lips in five gorgeous, shimmery shades. The gloss has a sheer texture and contains a unique blend of Niacin, peptides, and hyaluronic acids for long-lasting smoothness and hydration.
EltaMD® Sun Care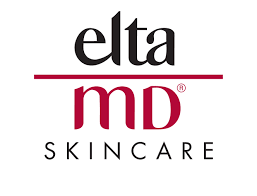 Broad spectrum sun protection is a key component of an effective, comprehensive skin care regimen—especially in our warm, sunny environment. At Aloha Laser Aesthetics, we recommend patients use facial and body sunscreen products from the EltaMD Sun Care line to help prevent sun damage and skin cancer. EltaMD sunscreens provide long-lasting UVA and UVB barriers on the skin, and are formulated with high-quality ingredients that are compatible with all skin types and sun protection needs. We are happy to assist you in finding the most suitable EltaMD products for your needs.
UPNEEQ®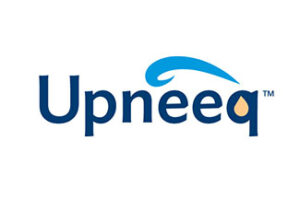 Patients diagnosed with acquired blepharoptosis have benefited from UPNEEQ® eye drops, a new non-surgical treatment for droopy eyelids. Made of an oxymetazoline hydrochloride ophthalmic solution, UPNEEQ® is designed to trigger the muscle that keeps your eyes open. Although relatively new to the market, this FDA-approved product has helped countless patients achieve a more refreshed, alert look.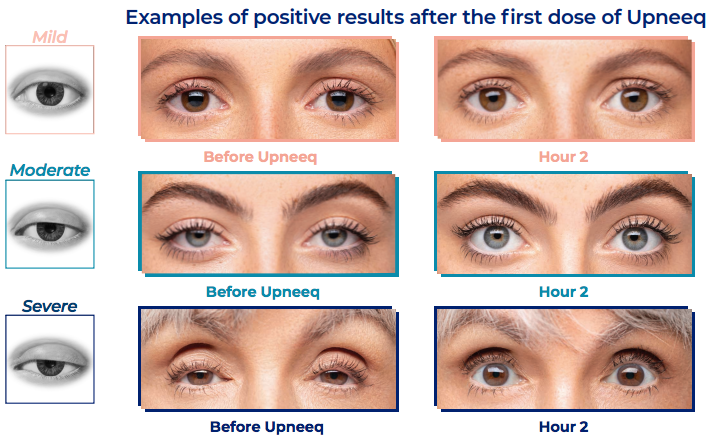 Eyelash Treatments
We offer two different eyelash lengthening products to help you achieve thicker, longer, darker eyelashes:
LATISSE® Eyelash Lengthening

Prescription LATISSE in an effective product that is applied along the lash line at night to grow and lengthen eyelashes. While noticeable results are usually achieved in one month, the full effects of LATISSE take about 16 weeks to emerge. For the majority of patients, LATISSE creates noticeably longer, fuller, darker lashes that beautifully frame and enhance the eyes.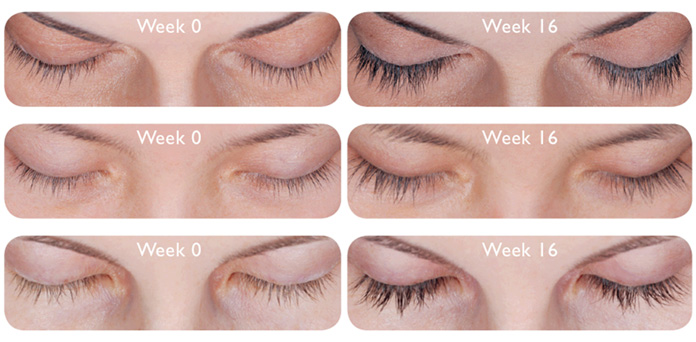 AlphaLash™ Eyelash Serum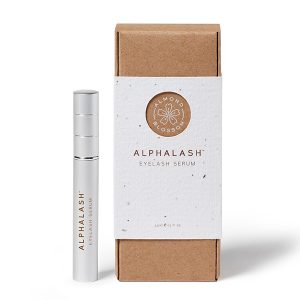 AlphaLash Eyelash Serum by Almond Blossom is designed to fortify and strengthen thinning eyelashes for a longer, thicker appearance. This product is available without a prescription, and with proper daily use, patients can notice healthier, more robust eyelash growth in as little as 28 days!
Contact Aloha Laser Aesthetics
Do you have questions about the product lines we offer? Contact Aloha Laser Aesthetics today to learn more about our skin care, sun protection, and eyelash treatment options.