Aloha Laser Aesthetics in Honolulu is led by the direction of Alan Faulkner, MD and located alongside his state-of-the-art ophthalmic practice, Aloha Laser Vision. Using the latest laser technology, aesthetic systems, cosmetic injectables, and medical-grade skin care products, Dr. Faulkner seeks to help patients overcome a wide variety of skin challenges, look younger, reshape body contours, and reduce unwanted hair. Along with his dedicated team, Dr. Faulkner develops personalized cosmetic treatment plans for each patient that are tailored to addressing their unique needs.
When you visit Aloha Laser Aesthetics, you can feel comfortable trusting the expertise of our highly trained team. Your goals, priorities, and safety are always our top priorities, and you can expect to learn about all of the benefits and drawbacks of each treatment so that you can make the most informed choices about your care. As a practice, we are also mindful of your budget and have designed a variety of treatment packages that are designed to set you up for success. Packages even include skin care products to optimize results without excessive costs. We also offer low- and no-interest payment options, which can make attaining your goals more affordable.
The first step toward looking and feeling your best is a cosmetic consultation at Aloha Laser Aesthetics, and we encourage you to contact our office today to make an appointment. Our friendly office team is happy to answer any questions you have about the practice, treatments, and/or pricing.
Meet Dr. Alan Faulkner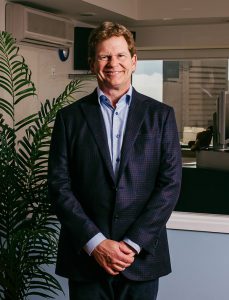 Our Medical Director, Dr. Alan Faulkner, has always had a distinct focus on aesthetics and laser technology, frequently joining top dermatologists and plastic surgeons from around the world to advance his knowledge in the latest non-surgical cosmetic innovations. In addition to providing world-class aesthetic treatments, Dr. Faulkner is a board-certified ophthalmologist and a leading eye surgeon. After completing his undergraduate study at Northwestern University and earning his medical degree from Tulane Medical School, Dr. Faulkner completed his Residency Program at Tulane University in June 1990. While in residency, Dr. Faulkner did a term in Ocular Plastics and has since had an ongoing interest in cosmetic surgery and aesthetics. Throughout his career, he has obtained an enormous amount of knowledge about laser technology and is one of the best when it comes to choosing the appropriate laser for a patient's specific needs and desired results. He has always continued his education in aesthetics, and attends Cosmetic Bootcamp every year to remain current with the latest developments in aesthetic treatment approaches, products, and technology.
Meet Our Team
Learn all about the members of our team at Aloha Laser Aesthetics. Each of our team members strives to demonstrate exceptional skill in their area of focus and ensure that our patients enjoy a pleasant experience each time they visit our office.
"Nicole is great to work with and super knowledgeable about the procedures. She makes u feel very comfortable! I am very satisfied with my results and have gone back for additional laser hair removal procedures!! 10/10 would recommend."
Nicole, Lead Aesthetician & Aesthetic Manager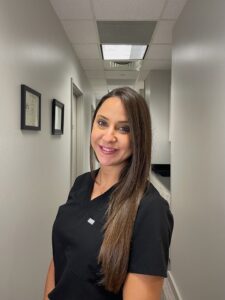 Nicole is our Lead Aesthetician and Aesthetic Manager. She graduated from Makana Esthetics Wellness Academy in October 2010. Once attaining her License in January of 2011, she began working in the beauty industry as a cosmetic business manager for companies like Chanel, Trish McEvoy, and Giorgio Armani—and most recently as the Lead Esthetician at the Dior Spa in Neiman Marcus. Nicole also attended Hawaii Medical College where she attained certifications in Medical Assisting and Phlebotomy. With only two treatment offerings, she began employment at Aloha Laser Aesthetics in 2016. Throughout the process, Nicole has become specially trained and certified in all laser treatments and aesthetic services. She has a passion and drive for helping people find their inner confidence through self-care, and will continue to work with patients until that is achieved. When she is not at work she enjoys her time at the baseball field with her four boys.
Michelle, Licensed Medical Aesthetician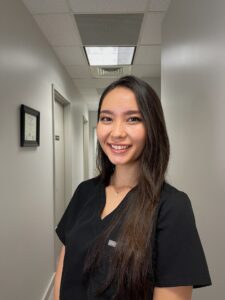 Michelle is one of our Licensed Medical Aestheticians. She graduated from University of Hawai'i at Manoa in 2018 with a Bachelor's degree in Biochemistry. She was always interested in the science behind skincare products and treatments but wanted to help patients, one-on-one, to feel more confident in their own skin. To pursue this, she attended Makana Aesthetics Wellness Academy and graduated in March 2020. She attained her license that same August. When she is not at work, she enjoys hiking and checking out new restaurants.
Payton, Licensed Medical Aesthetician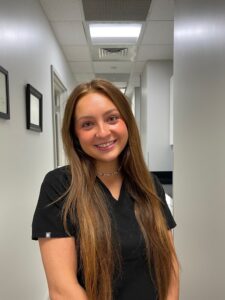 Payton is one of our Licensed Medical Aestheticians. She has always had a love for skincare and beauty treatments to make you feel your best self. Going into the aesthetics world was an easy decision for her! Payton graduated from Skin Science Institute of Laser and Aesthetics in 2021. She strives to educate patients on products, treatments, and give them the confidence they need in their skin. When she's not working she enjoys exploring the island and going to the beach with her husband.
Lis, Patient Concierge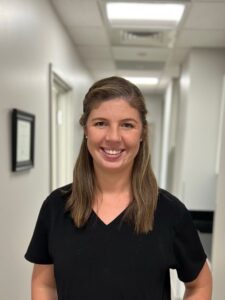 Lis is our amazing Patient Concierge and she graduated from The University of South Florida. She cares deeply about being in an environment that helps people feel great and accepted, so she found herself here at Aloha Laser Aesthetics! Lis has experience in health and wellness, and is very knowledgeable about our treatments and products. When she's not working she enjoys playing with her two daughters.
Tyanna, Patient Concierge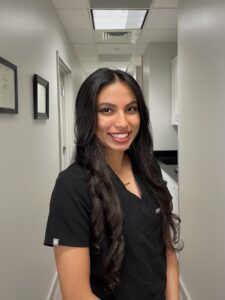 Tyanna is our wonderful Patient Concierge. She started working at Aloha Laser Vision in 2021 as she attended Arizona State University online, where she focused on software engineering. As the patient concierge for Aloha Laser Vision, Tyanna was able to learn about the aesthetics side of the business since Aloha Laser Aesthetics shared the same office. Tyanna took an interest in aesthetics and requested to be considered as the patient concierge for the new aesthetics location down the hallway. Not only does she provide customer service and is knowledgeable on our products and treatments, but she also has a talent for marketing and social media which has been vital in expanding our social accounts. When she is not working, she enjoys spending time with her family and  pets; Koa & Honey (cats), and Mahina & Delilah (dogs).
Contact Aloha Laser Aesthetics to schedule your cosmetic consultation today!