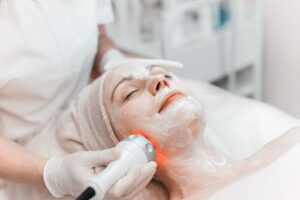 Enhancing the natural beauty of your face has never been easier. Our dedicated team at Aloha Laser Aesthetics offers a variety of non-surgical, minimally-invasive cosmetic treatments to rejuvenate your skin. Each of our treatments is conducted using the latest cosmetic technology, allowing us to produce the best results particular to each of our patients' unique needs. From injectables to fillers to laser therapies, our non-surgical rejuvenation procedures have left countless patients feeling – and looking – refreshed and youthful.
Laser Treatments and Skin Rejuvenation Options
We invite you to familiarize yourself with our array of skin rejuvenation treatments, which include state-of-the-art laser procedures and many other advanced options. Our non-surgical skin rejuvenation treatments have proven effective for many of our devoted patients, allowing both women and men to achieve effective aesthetic renewal without the need for invasive surgery. Options include:
PicoSure® Laser Skin Rejuvenation & Tattoo Removal. This innovative laser platform can diminish the appearance of an undesired tattoo or be utilized for general skin rejuvenation. The PicoSure® system can be a great option for addressing hyperpigmentation, signs of age, acne scars, sun damage, and other common conditions.
ICON™ Laser Skin Resurfacing. The ICON™ system offers patients another advanced laser treatment option. This technology may be ideal for patients who would like to improve the appearance of age spots, wrinkles and fine lines, vascular lesions, and even signs of stretch marks and birthmarks. 
SmartSkin®+ CO2 Laser. Treatment with the SmartSkin® laser platform can be effective for reducing severe signs of wrinkles and fine lines, sun damage, and other concerns. This technique is often so effective that many patients only need a single treatment session to achieve optimal results. 
Microneedling. The Genius RF™ microneedling process involves the application of radiofrequency energy to your skin through small, careful perforations. The radiofrequency waves can help produce new collagen and elastin fibers, resulting in refreshed, reinvigorated, and renewed skin.  
Tempsure™. The Tempsure™ Envi system also uses radiofrequency energy to enhance the production of collagen and elastin fibers in the skin. This technique is specifically designed to tighten and firm the skin to diminish signs of wrinkles and skin laxity. 
HydraFacial®. This exfoliating, moisturizing treatment is mask-like in its ability to remove dead skin from the pores. After the procedure, patients often find their skin feels more hydrated and refreshed than ever before, making HydraFacial® an ideal treatment for dry skin, acne, sun damage, and more.
IPL. Short for "intense pulsed light", our IPL treatments are a form of photorejuvenation. IPL can minimize the aesthetic effects of pigmentation-related blemishes and give the skin a more even appearance. Because multiple IPL treatment sessions are usually needed for the best results, we feature a number of affordable packages. 
Injectables and Dermal Fillers
Injectable products have proven successful for many patients seeking to reduce signs of wrinkles, fine lines, and more. Some cosmetic injectable options are designed to temporarily relax the muscles in targeted areas of your face to prevent them from contracting and causing wrinkles. This can ultimately lead to a smoother, more youthful appearance. Injections with wrinkle-relaxing solutions are typically performed quickly – sometimes in as little as 15 minutes – and can be repeated after several months when the effects begin to fade, which helps patients maintain optimal results for extended periods. 
We offer the following wrinkle-relaxing injectables: 
BOTOX® Cosmetic 
Dysport® 
Jeuveau™ 
Restylane® Dermal Fillers
Dermal fillers are another great facial rejuvenation option, and we're proud to offer the entire Restylane® product family. Composed of hyaluronic acid—an ingredient that is natural to the human body—Restylane® is among the most reputable dermal fillers on the market. This injectable treatment can produce results often lasting up to a year or longer, depending on the particular product utilized. Restylane® can be an ideal option for numerous common concerns. In addition to smoothing away signs of wrinkles and lines, Restylane® products can enhance volume and definition among specific facial features.  
Schedule your consultation today and we'll help you determine the best treatment for your individual needs. If you would like additional information on our aesthetic enhancement procedures, please don't hesitate to ask!
Previous Post
Next Post