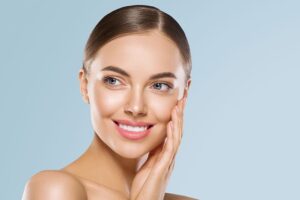 Many of our patients want a procedure to reduce fat and/or tighten skin but don't want to undergo surgery. Thankfully, with our top-of-the-line body contouring treatments, non-surgical skin tightening and fat reduction are possible. EMSCULPT NEO®, TempSure®, SculpSure®, and FlexSure™ are each incredibly popular body contouring options that have helped our patients obtain the firm, lean body they've always desired. In addition, these treatments are minimally invasive and considered as safe as they are effective. Our licensed aestheticians are highly experienced with helping patients achieve their aesthetic goals with each of these body contouring procedures. 
Emsculpt NEO®
EMSCULPT NEO® is one of our newest options at Aloha Laser Aesthetics. This groundbreaking treatment is the first on the market that can achieve both fat removal and muscle firming at the same time. Some of its many benefits include:
A unique application process. EMSCULPT NEO® uses radiofrequency energy to remove fat. It also uses high-intensity focused electromagnetic technology to sculpt muscle. This is a revolutionary combination that was unheard of before EMSCULPT NEO®'s release.
A minimally invasive procedure. EMSCULPT NEO®'s application process is typically painless. Some have even compared its sensation to a hot stone massage. Typically, no downtime is needed after this procedure, and it rarely exceeds 30 minutes in length.
Intended for permanent fat removal. EMSCULPT NEO® can remove up to 30% of fat in one treatment. (Please note that while EMSCULPT NEO® can destroy existing fat cells, new fat cells can grow in the event of weight gain and/or fluctuations).
Added bonus of muscle toning. Astonishingly, EMSCULPT NEO® can increase up to 25% of your muscle mass. 
TempSure® Firm
If you have been to our practice before, you may have heard of TempSure®. This procedure, which features a family of treatments designed for the face and body, is a favorite product at our office due to the following benefits:
Successful treatment results. Like EMSCULPT NEO®, TempSure® Firm uses radiofrequency (RF) technology. Not only has this solution proven effective for countless people, but the process is virtually painless.
A wide range of target areas. Just like its facial counterpart, TempSure® Envi, Firm can ease and remove blemishes on the body such as wrinkles, sagging skin, and cellulite. It is, however, designed to cover far more surface area than Envi, allowing for use on the body rather than the face and neck.
An easy application process. TempSure® Firm is performed via handpiece. The device is guided across the body, its RF properties warming the skin and stimulating the growth of new collagen fibers. The procedure poses little risk of discomfort, usually only takes around five minutes, and no downtime is typically warranted afterward.
Long-lasting results. For most patients, a series of TempSure® Firm treatment sessions will be recommended to help you achieve optimal results. While everyone responds differently to treatment, the effects of TempSure® Firm can last for years.
FlexSure™
FlexSure™ can be another wonderful non-surgical solution for excess fat. This treatment involves a wrappable applicator that can address more complicated, curved areas using deep tissue radiofrequency (RF). Its versatile application process makes it both an innovative and effective procedure. The benefits of FlexSure™ include:
Access to more difficult treatment areas. The unique design of the FlexSure™ applicator enables it to treat areas such as the knees, back, arms, and more. Our aestheticians can literally bend the applicator to your will in order to contour and firm areas with stubborn fat buildup.
A powerful, radiofrequency-based solution. FlexSure™ is specifically designed to address fat in the subcutaneous layer with deep tissue RF energy. Its targeted application process regularly yields great results.  
A minimally-invasive – sometimes even relaxing! – procedure. The FlexSure™ treatment process usually lasts around 15 minutes and requires little to no downtime. Patients have described the applicator as comfortable, even saying it feels relaxing.
SculpSure®
SculpSure® is another patient favorite for a variety of reasons, such as: 
Permanent fat removal. As fat cells do not reproduce, SculpSure® can permanently remove up to 24% of fat from the body.
The ability to treat a number of areas. Patients can expect a much firmer, more contoured appearance in the upper and lower abdomen, hips, thighs, mid-back, and more.
An advanced application process. Once the SculpSure® applicator is secured to the target area, laser heat works to destroy fat cells without damaging the skin's surface.
A minimally invasive procedure. SculpSure®'s application process is typically painless. Flat paddles are placed on the body, and the light inside attacks your fat cells. The entire procedure rarely exceeds 25 minutes.
Although these four treatments share similarities, they are designed to treat different issues. If you are wondering which of these non-surgical procedures is ideal for you, we'd be happy to point you in the right direction. Please contact our office today with additional questions.
Previous Post