Restylane® injectable fillers offer both women and men an effective, non-surgical way to minimize signs of fine lines and wrinkles, add volume to certain facial features, and generally provide a more youthful and refreshed appearance. Our experienced injector here at Aloha Laser Aesthetics, Dr. Alan Faulkner, customizes all Restylane® treatments for each patient to produce outcomes that look both beautiful and natural. We offer a full line of Restylane® products here at our practice, each of which is designed to rejuvenate specific concerns with exceptional results.  
Restylane®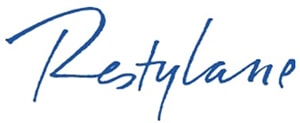 Restylane® is the signature product in this advanced line of dermal fillers. Just like all of the other options under the Restylane® umbrella, the solution is composed of hyaluronic acid (HA), which is natural to the human body and typically eliminates the need for allergy testing prior to treatment. Restylane® can be ideal for smoothing away moderate to severe signs of wrinkles and folds along the face, including creases around the eyes and lips, as well as lines that have formed along the forehead. This solution may also be recommended for patients who would like to enhance certain facial contours or give the lips a boost of volume for a fuller look. The effects of Restylane® may last as long as 18 months for many individuals. 
Restylane® Lyft 

Restylane® Lyft may be the best choice for individuals who would like to add volume and enhanced definition to the cheeks and areas in the mid-facial region. This solution is specifically designed to address these areas, giving a fuller, "lifted" appearance to cheeks that are looking "sunken" or flat following a loss of collagen, volume, and elasticity over time. Restylane® Lyft may also be indicated for diminishing signs of acne scars, or for signs of age that have developed on the backs of the hands. The results of Restylane® Lyft are known to last up to a year for some patients.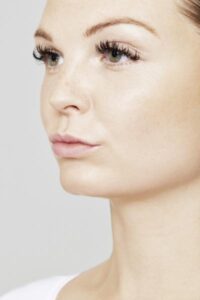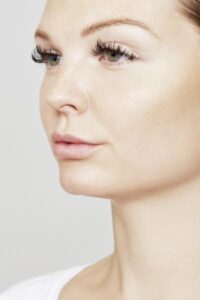 Cassandra, 27 years
Areas treated: cheeks, lips
Products used: Restylane Lyft, Restylane Kysse
Restylane® Silk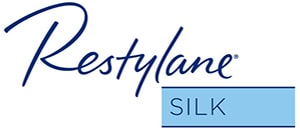 FDA-approved to address aesthetic concerns pertaining to the lips and around the mouth, Restylane® Silk can be a great option for smoothing away signs of "smoker's lines" (vertical lip lines). It can also be very effective for lip augmentation with its ability to enhance volume and contour in the lips. Restylane® Silk is specially formulated to produce subtle enhancement for results that are noticeable, yet appear as natural as possible. The effects can often last for up to six months or longer. 
Restylane® Kysse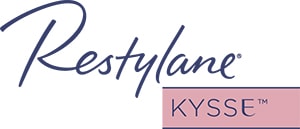 Restylane® Kysse is one of the latest additions to the Restylane® family of products. This dermal filler is approved by the FDA for cosmetic lip enhancement, and it offers a number of exciting benefits for patients who wish to improve the appearance of their lips and areas surrounding the mouth. Restylane® Kysse is unique among other dermal filler options due to its innovative ingredients. The solution includes XpresHAn Technology™, which is a proprietary component that can help hyaluronic acid particles in the lips bind themselves together. The reason this is important is that the solution allows the particles to stretch and then resume their previous position, essentially helping Restylane® Kysse "mold" to the treated tissues and create an appearance that looks and feels natural even while talking, smiling, and making other expressions. Restylane® Kysse can ultimately produce noticeable lip enhancement without resulting in an artificial appearance. Plus, the effects of this injectable are known to last almost a full year for many patients. 



Restylane® Refyne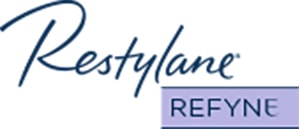 For individuals who are looking to reduce signs of nasolabial folds and smile lines (also referred to as "marionette lines" or "parentheses lines"), Restylane® Refyne may present the ideal solution. This dermal filler is designed to provide the skin in these areas with a smoother, more youthful appearance with results that look very natural. Like Restylane® Kysse, Restylane® Refyne is formulated with XpresHAn Technology™, which can help patients achieve their enhancement goals while reducing the chance that the solution will significantly compromise the ability to make natural expressions in the treatment areas. Results may last approximately nine months to a year for many individuals. 
Restylane® Defyne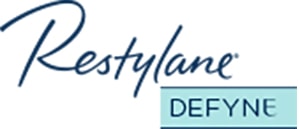 Restylane® Defyne offers many of the same benefits as its sister product, Refyne, but may be the better choice for patients who have particularly severe nasolabial folds and wrinkles. Restylane® Defyne also contains XpresHAn Technology™ to address lines between the nose and mouth effectively without resulting in a "frozen" or unnatural appearance. Like Restylane® Refyne, the effects of this treatment may last between 9 and 12 months for many patients.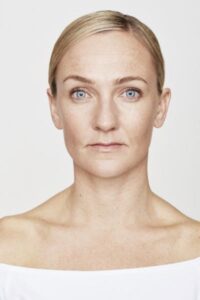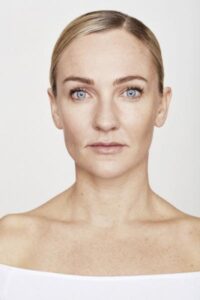 Sofia, 39 years
Areas treated: chin, cheekbones, lips, smile lines, marionette lines
Products used: Restylane Lyft, Restylane Defyne, Restylane Kysse
What Does the Restylane® Procedure Involve? 
The Restylane® procedure is performed here at our office and can often be completed in about 30 minutes or less. The Restylane® solution is delicately injected into the areas targeted for treatment using an ultra-thin needle. For your comfort during injection, many Restylane® products are formulated with lidocaine, which is a local anesthetic. 
Restylane® injections can be performed as standalone procedures or in combination with other aesthetic treatments available from our practice.  
How Long Do Restylane® Results Last? 
The results from Restylane® injections are often noticeable almost immediately after the procedure has been performed. The effects can potentially last from six to nine months with some products, or up to a year and a half—or more—depending on which Restylane® product is used, where it is injected, and the unique rate at which the filler dissolves in your tissue. 
How Much Do Restylane® Injections Cost? 
The total cost of Restylane® injections at our practice is dependent on the specific product used, the amount of the solution necessary to achieve your goals, the particular aesthetic concerns being addressed, and other factors. Once you are evaluated during the initial consultation, a customized treatment plan can be developed and a member of our team will calculate a total price estimate so you will know what to expect. Our practice accepts a full range of convenient payment methods, including financing options available for qualified applicants through ALPHAEON™ Credit. 
Here at Aloha Laser Aesthetics, there are occasions where we offer special discounts on Restylane® products. We also participate in the loyalty program known as "ASPIRE Galderma Rewards®", which can help you save on future treatments with Restylane® and other Galderma options. We will be happy to talk more with you about this innovative rewards program. 
Would you like to learn more about Restylane®? Please don't hesitate to contact our office for additional information, or to schedule a consultation.